9.9 Super Shopping Day. Lazada's Super Brand Day. 11.11 Singles Day. Black Friday. Cyber Monday.
The one thing that all these days have in common is… you've got it, SALES! As we ignore the cries of our empty wallets and eagerly await at all our loots from 11.11 Singles day, there's yet another massive day famous for its sales just round the corner.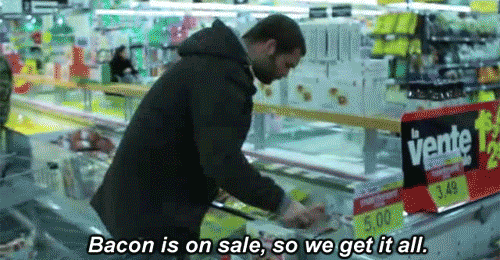 Black Friday is coming up this Friday, 23 November, and we've rounded up all the best deals for electronics, household appliances, and even travel deals. You don't even need to leave the house and hustle with thousands of other aunties because some of these sales are available online!
---
Sephora: 15% off storewide
We just can't get enough of makeup and skincare even though our makeup pouches and shelves are already overflowing with products. This year, Sephora is having a 15% discount on EVERYTHING. Whether it's that Drunk Elephant serum you've been eyeing or a glow palette from Anastasia Beverly Hills, just get it. 28 lucky gals or guys who make a purchase on Black Friday will also win a Skin Inc Optimizer Voyage Tri-Light++ Device and serum set. Here's one more voucher for you: pay with a Citi credit card and get $8 off when you spend $120. We've already got 1278923784 items in Sephora wishlist – what about you?
Sephora is having 15% off everything online and in all stores islandwide on 23 Nov
FOREO: 15% off all products 
Recently we've been trying out the various beauty gadgets from FOREO, and we're really liking them. Probably most famous for their cleansing device, the LUNA 2 is a silicone-tipped device that cleanses and has anti-aging effects. If you're more into masking, you might want to give the UFO Smart Mask Treatment a go. The facial device will shake your beauty routine up because it uses LED light to activate the mask, essentially completing a facial-worthy masking session in just 90 seconds. These awesome deals from FOREO won't be sticking around forever, so check out your Sephora cart on 23 Nov to get 15% off their beauty gadgets! And when Cyber Monday rolls around, you can tell all your friends to get their own gadgets from Lazada, who is also having 15% off all FOREO products on 25 and 26 Nov.
Sephora is having 15% off all FOREO products on 23 Nov
TANGS is having 12% off all FOREO products on 24 Nov
Lazada is having 15% off all FOREO products on 25 and 26 Nov
Nespresso: 50% off* Citiz Coffee Machine
Hate grinding your own beans but still want good coffee in the comforts of your own home? A Nespresso coffee machine is what you're looking for. Using only quality coffee selected from the best terroirs, Nespresso tailors the roast and grind process of each blend, and finally seal it in capsules for optimal freshness. Did we mention how fuss-free it is? For this year's Black Friday, Nespresso is shaving 50% off* the Citiz range, starting from only $179 after discount. Make espressos and lungos easily with the Citiz, or enjoy lattes with some milk froth from the Aeroccino3 included in the Citiz bundle. At half off, it's really a steal.
Nespresso is having 50% off* the Citiz and Citiz Bundle coffee machines when you buy 50 capsules in the same purchase. Shop online or any of their 4 boutiques.
*Terms and conditions apply.
Shopee: flash sales up to 50% off
Shopee is hosting a range of deals, including Doorbuster Deals under $150, 100 Unbeatable Deals with the lowest prices guaranteed, and beauty deals. And they've got everything from fashion brands, beauty products, home appliances and tech stuff. Brands will also be having a 3 hour flash sale from 12am to 3am on 23 Nov, where brands Oakley and Ray-Bans will be having 25% off storewide, and Ted Baker selling their watches at $88. Some of the brands during the 3 hour Brands Flash Sale will also be having up to 50% storewide!
Just for NYLON readers, we've also got an additional promo code* to take $7 off $7 with a minimum spend of $15 – just key in the code < NYLONBFCM > when checking out.
Shopee is running their Black Friday and Cyber Monday sale over the weekend from 23 – 26 Nov
*promo code only applies for first-time buyers
COURTS: Up to 60% discount + awesome freebies
COURTS is really serious about their freebies this year, with products like bluetooth speakers, TVs, and even a Dyson Supersonic Hair Dryer up for grabs. What you get depends on how much you spend, of course. And this is on top of all the great deals and bundles that they're running. The sales period  stretches all the way till Cyber Monday on 26 Nov, so you might want to rethink that room redecoration that you've been putting off. COURTS has plenty of furniture, gadgets and house appliances on their sales catalogue, with discounts of up to 60% on selected products.
COURTS is having up to 60% off selected products and flash sales online. Attractive freebies up for grabs in stores islandwide and online
Amazon: Lightning Deals every 2 hours

Amazon has already started releasing some of its Black Friday deals, which will go on until 26 Nov. Now would be a good time to pick up some Amazon products like the Kindle or the Echo at a good price. Or you can pick from the hundreds of other brands, although we think that the best deals are on the electronics side. Singapore will also be getting curated deals from the online retail giant alongside all the major discounts that they are running.
Amazon Prime members will  also get free 2 hour delivery if you're shipping within the country and free international shipping for overseas orders. Or you can sign up for a free 30 day trial now as Prime Now members will get access to exclusive Lightning Deals.
Shop Amazon's deals online
Dyson: Limited edition gold plated Dyson Supersonic
Not everyone needs a hair curler, but a hair dryer is definitely necessary in every household. The Dyson Supersonic is dropping in a limited edition cobalt blue, with the head plated in 23.75 karat gold. Like all other gold leaf items, the underlying red loop will eventually reveal itself in a patina pattern. Talk about owning your own unique Dyson Supersonic! And this edition is only available for purchase on Black Friday.
The Dyson Supersonic™ 23.75 karat gold will go on sale online on 23 Nov, and retails at $749
REC by Alan Photo: up to 80% off cameras and accessories
This one's for the camera enthusiasts. Photography is not a cheap hobby, and you don't want to miss out on this sale! REC by Alan Photo is holding their Black Friday Super Sale at their shop, with up to 80% off cameras, lens and camera accessories. They also have instant cameras and old school film cameras for the hipster photographer, and studio and lightning equipment for the professional photographer. Brands to look out for include Zeiss, Leica, Canon, Nikon, Sony, Polaroid, Sandisk, and Wacom.
REC by Alan Photo's Black Friday Super Sale happens from 23 – 25 Nov,  11am to 7pm at 114 Lavender Street 
Hotels.com: up to 75% off hotel bookings
Get ready for exclusive promotions and flash coupons, which will come in handy if you're planning a last minute getaway during Christmas, New Year, or even Chinese New Year. Hotspot travel destinations like Tokyo has properties at 60% off, 70% off properties in Seoul, and 75% off properties in Busan! Use the coupon code < THANKSG > when checking out to get an additional $50 off your total bill when you spend over $350. Another reason to use Hotels.com to book all your hotel stays: they give you a free night's stay with every 10 nights booked.
Hotels.com is running their Black Friday sales from today until 27 Nov
Timberland: up to 30% off
Looking for good outerwear and shoes for your upcoming holidays? Timberland's robust shoes are good for hiking and in snowy weather, and generally harsh weather conditions. Their shoes are also good at keeping your feet snug and warm in below freezing temperatures. While you're at it, you might as well get a warm coat and a beanie to keep your whole body warm. For Black Friday, you can expect deals up to 30% on selected footwear, clothes and accessories.
Shop online for exclusive deals on Timberland footwear, clothing and accessories