YASSS QUEEN! The highly anticipated cult beauty brand, Jeffree Star Cosmetics, is finally here in Singapore and we can't help but to go gaga over what he has in store for us all — or should we say, in stores?
Most popularly known as a beauty guru and a YouTuber on his own channel, Jeffree Star started his own line of makeup back in 2016 and has garnered the likes for his products that have gained cult status in the beauty community.
However, his products aren't the only thing gaining a lot of attention. If you've been following his Twitter account religiously, or even watched his YouTube videos, you would've figured how blunt Jeffree can be at times with his opinions — it's literally SO savage (but of course, we can't deny that it is pretty entertaining). As a result of him being brutally honest with his criticisms, it comes as no surprise that it has actually brought a lot of drama, especially over recent months, with a few disputes involving A-List celebrities like Kim Kardashian, and other beauty gurus such as Kat Von D (and the list goes on…).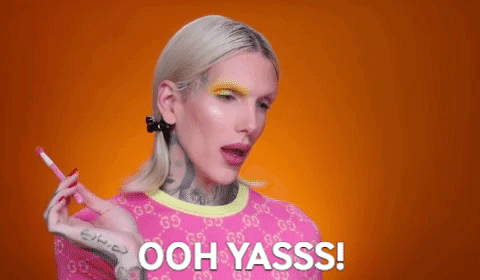 Nonetheless, despite all the controversial issues circling around him, nothing seems to get in his way when it comes to his line of cosmetics. Whether it's his bestselling Velour Liquid Lipsticks or his Skin Frost Highlighters, we're dishing on all the #JeffreeStarApproved must-haves to add to your stash.
Velour Liquid Lipsticks
The wait is finally over, and the moment we've all been waiting for is finally here. We've heard brilliant reviews about Jeffree Star's line of products but unfortunately, you won't be able to see his full collection in-stores in Singapore just yet.
On the bright side, Jeffree Star Cosmetics, will feature his headlining product, the Velour Liquid Lipstick collection, as part of the launch at escentials in Singapore. As we patiently await the arrival of his other products — which includes his eyeshadow palettes, highlighters, etc. — there's always room for us to try his highly coveted Velour Liquid Lipsticks.
Formulated to give an opaque, matte finish, this long-wearing, lightweight liquid lippies are a must-have if you're dreaming of the perfect pout. Besides their rich colour payoff, Jeffree's Liquid Velour Lipsticks also give an impressive quick dry finish within minutes, so you won't have to worry about reapplying it on your lips by the hour.
On top of that, the brand also carries a wide range of shades to suit any and every mood — whether you're going for a vampy lip or a classic red pout, there will always be a shade for every occasion!
Here are the other items we're looking forward to having:
Blood Sugar Palette 
If looks could kill, this palette would be a tool for mass destruction. For an eye look that slays, try this Blood Sugar Palette by Jeffree Star Cosmetics! We all know that Jeffree doesn't shy away from drama so if you're looking for an intense eye look that speaks volumes, this might be your perfect match.
Androgyny Eyeshadow Palette 
Talk about throwing some serious shade. If there's one thing to love about Jeffree Star's line of cosmetics, it'd definitely have to be how pigmented his products are. Dust on these shades and blend 'em out for an effortlessly stunning look that's out of this world! Whether you're going for a subtle or bold look, this palette does it all.
Skin Frost Highlighter
"More is more!" You heard that right! Jeffree Star's undying love for iridescent highlighters has undeniably stuck through his products and evidently, we're livin' for all the shades in the range. For strikingly radiant skin — and we're talking about some serious glow BTW — try Jeffree Star Cosmetics' Skin Frost Highlighters!
---
Jeffree Star Cosmetics Velour Liquid Lipsticks are now available on escentials.com and in escentials stores.